Eureka Entertainment is to release The Skull, the blood curdling Amicus horror from 1965 starring Peter Cushing and Christopher Lee, in a Dual Format (Blu-ray & DVD) edition for the first time in the UK on 26th October.
After directing a number of successful Hammer Horrors films in the early sixties, Director and Academy Award winning cinematographer Freddie Francis (Paranoiac,The Evil of Frankenstein, Dracula Has Risen from the Grave) moved to the fledgling Amicus Productions and produced an incredible run of horror titles (including Dr. Terror's House of Horrors, Torture Garden and the superlative Tales from the Crypt) that would make them the only studio able to rival the ascendant Hammer Pictures during the peak years of British horror filmmaking. Of these films, The Skull is a standout.
Peter Cushing stars as Dr. Christopher Maitland, a writer and collector of occult items (with a preference for those with a somewhat macabre history), who is offered the chance to purchase a highly expensive and unusual item – the skull of the Marquis de Sade. Warned against obtaining the item by fellow collector (Christopher Lee in a rare non-villainous role), the skull's influence draws Maitland in, madness and death soon follow...
Adapted from a short story by Robert Bloch (Psycho) and featuring a score by avant-garde composer Elisabeth Lutyens (Paranoiac, Dr. Terror's House of Horrors), The Skull is one of the most expertly crafted British horror movies of its era.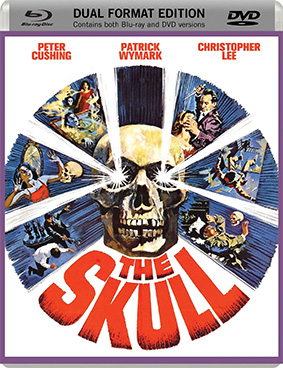 The Skull arrives on UK dual format (Blu-ray and DVD) on 26th October 2015 from Eureka! Entertainment at the SRP of £15.95.
Featuring an exclusively restored 1080p presentation of the film on Blu-ray and optional English subtitles for the deaf and hard-of-hearing, the release will have these extras:
New video interview with film scholar Jonathan Rigby

New video interview with critic & author Kim Newman

Reversible sleeve featuring original and new artwork

Limited Edition Collector's Booklet