Having successfully pulled off a daring jewel heist, Paul Clifton prepares to hit a mail train heading south from Glasgow. Several difficulties stand in his way, however, not the least of which is the police – who are hot on his tail and already in receipt of a tip-off about his next job.
Based on the planning and execution of criminal cause celebre The Great Train Robbery, this taut, meticulously researched drama stars Stanley Baker (Zulu, Accident) as a crime boss undertaking the heist of his career – with James Booth (Pray For Death), Frank Finlay (The Pianist) and Barry Foster (Frenzy) among the gang he assembles.
Co-produced by Baker and directed by multiple-Oscar-nominated Peter Yates (whose thrilling staging of the opening chase scene saw him selected by Steve McQueen as the man to direct Bullitt), Robbery is a classic of British Film – exceptionally scripted (winning a Writers' Guild of Great Britain Award for Best British Screenplay), beautifully acted and sporting a legendary score by composer-arranger Johnny Keating (Hotel, Innocent Bystanders).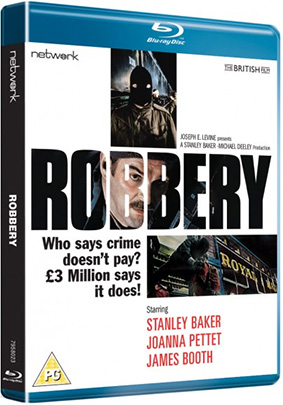 Robbery will be released on UK Blu-ray and DVD on 31st August 2015 on Blu-ray at the RRP of £14.99, and DVD at the RRP £9.99, courtesy of Network's 'The British Film' collection.
Presented here as a brand-new High Definition transfer from original film elements in its original aspect ratio, the release will have the following special features:
Brand-new interview with Michael Deeley

Cinema: Stanley Baker

German film The Great Train Robbery

Waiting for the Signal: The Making of Robbery

Behind the scenes footage

Image gallery

Promotional materials PDF

Commemorative booklet
You can read our review of the previous DVD release of Robbery here.