Schoolteacher Marian Ives visits the Yorkshire moors where her friend, Eveyln, disappeared a year ago. Caught in a violent storm, she takes refuge in a large, lonely house to which she is grudgingly admitted by Stephen Deremid, a reclusive pianist traumatised by his experiences in the Spanish Civil War. While Marian finds herself attracted to Stephen, she also begins to suspect that he may have had something to do with her friend's disappearance.
A powerful, atmospheric thriller and a major box-office hit for director Leslie Arliss (The Man In Grey, The Wicked Lady), The Night Has Eyes boasts a supremely accomplished cast and crew including Wilfrid Lawson (Pygmalion, Tom Jones) and a youthful James Mason (Lolita, A Star Is Born).
The Night Has Eyes also stars British femme fatale Joyce Howard (They Met in the Dark, Love on the Dole), and Günther Krampf's (Pandora's Box, The Ghoul) skilful cinematography is complemented by an evocative score by Charles Williams (The Rocketeer, The 39 Steps).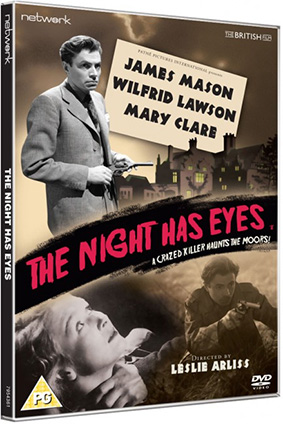 Featured here in brand-new transfer from the original film elements in its as-exhibited aspect ratio, The Night Has Eyes will be released on UK DVD on 31st August 2015 at the RRP of £9.99, courtesy of Network's 'The British Film' collection.
Extra features will include:
Image gallery

Promotional material PDF