The issue of loneliness and to some extent social isolation has become a recognised 21st century motif in films such as Our Children (Joachim Lafosse 2014), in which a feeling of permanent house arrest leads to family tragedy, and Her (Spike Jonze 2014), where Siri, the voice of Apple's iPhone, becomes as sensual as the real thing.
Exit is an arresting portrayal of loneliness. Ling's husband working abroad never answers her phone calls. Her precocious teenage daughter would rather spend time with her boyfriend than talk to her. As if this all wasn't enough, a sudden diagnosis of early-onset menopause exacerbates her overwhelming loneliness. She is walled-in.
Celebrated actress Chen Shiang-chyi, a veritable auteur's muse and best known for her work with directors Tsai Ming-Liang and Edward Yang, portrays a middle-aged woman confined to the house and social conventions, yet to break or not to be broken.
Award-winning veteran cinematographer Chienn Hsiang presents his debut feature, a claustrophobic portrait of urban life constrained by social conventions.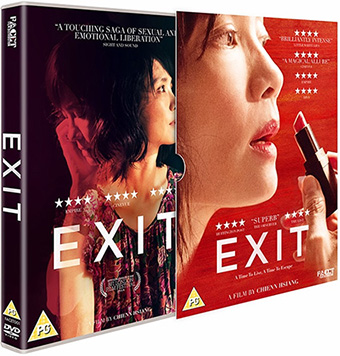 Described by Sight & Sound as "A touching saga of sexual and emotional liberation, observed with precision and empathy," Exit will be released on UK DVD on 24 August 2015 by Facet Film Distribution at the RRP of £15.99.
Special features will include:
Behind The Scenes – The Director

Behind The Scenes – The Actress

Behind The Scenes – The Crew