Pavel Szolda is a young Czech refugee living in the north of England; a bespectacled outsider at a tough school, he is befriended by the more streetwise Jim, who nicknames him 'Soldier'. After overhearing some of his countrymen plotting murder, Soldier involves Jim in secretly observing the conspirators' movements. Eventually they are discovered and the teenagers are forced to flee for their lives – relentlessly pursued through town and country by ruthless gunmen.
A memorable and much-sought-after BAFTA-winning drama series from the mid-1970s, this ruggedly authentic thriller chronicles the sinister events that happen to two boys in Britain following the events of the 1968 Prague Spring uprising.
Adapting David Line's bestseller Run for Your Life, Soldier and Me was produced by Brian Armstrong, the former World in Action journalist who witnessed and recorded the Czechoslovakian uprising and its aftermath.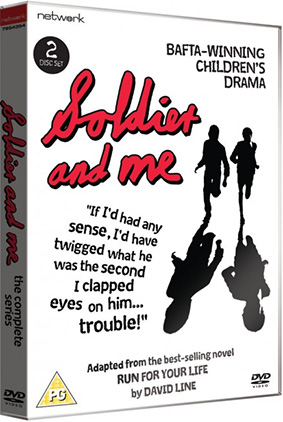 Soldier and Me – The Complete Series will be released on UK DVD as a 2-disc set on 17th August 2015 at the RRP of £19.99.
No extra features have been listed.