The long-awaited sequel to the multi-Oscar-nominated Hope & Glory, Queen & Country is the witty but moving new film by acclaimed director John Boorman (Deliverance, Point Blank).
Focussing on Bill and Percy, two young and disillusioned army recruits in the early 50s, the film follows their escapades as they while away their days chasing girls and making mischief. But the war in Korea is looming and authority is pressing in around them, creating tensions that will test their relationship to breaking point...
Featuring stirring performances from its two young leads and star turns from Richard E. Grant and David Thewlis, Queen & Country paints a wistful, nostalgic portrait of post-war Britain, shot through with a ribald humour reminiscent of Catch 22.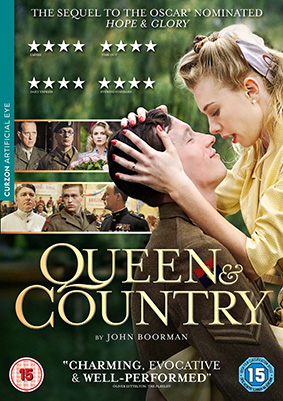 Queen & Country will be released on UK DVD (no Blu-ray?) on 24th August 2015 by Curzon Artificial Eye at the RRP of £15.99.
Special features will include: