Eureka Entertainment are to release one of Hammer Horror's finest achievements, The Man Who Could Cheat Death, a suspense-filled ride for all who enjoy classic horror cinema starring the late great Christopher Lee, on Blu-ray in the UK for the first time in a special dual format edition in September.
Director Terence Fisher (The Curse of Frankenstein, Dracula, The Hound of the Baskervilles) transformed the fate of Hammer Pictures with his vibrant and explicit series of gothic horror films, which would become the studio's signature style for nearly two decades. Fisher continued his winning streak for the studio with this tale of scientific debauchery.
Doctor and amateur sculptor Georges Bonnet (Anton Diffring – Circus of Horrors, Fahrenheit 451) has discovered a murderous method of maintaining his youth, once every ten years he murders a young woman and removes her parathyroid glands to replace his own. But after 104 years, he's run into some problems. His collaborator is now too old to perform the surgical procedure, and a detective is on his case. In desperation Bonnet blackmails another surgeon (Christopher Lee) into performing the procedure by threatening the life of Janine Dubois (Hazel Court), a woman who both men desire.
With cinematography by Jack Asher (whose Bava-esque use of colours lend the film an almost dreamlike quality) and set-design by Bernard Robinson who could miraculously produce lavish and expensive looking sets on a tight budget.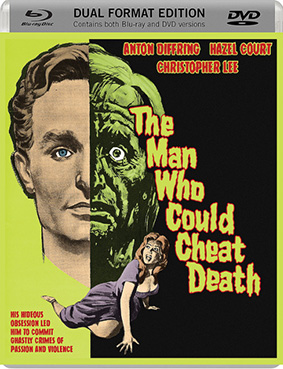 The Man Who Could Cheat Death will be released as a dual format edition (DVD and, for the first time in the UK, Blu-ray) on 21st September 2015 by Eureka Entertainment at the SRP of £15.95.
Featuring an exclusively restored 1080p presentation of the film on Blu-ray and optional English subtitles for the deaf and hard-of-hearing, the release will have these extras:
New video interview with film scholar Jonathan Rigby

New video interview with critic & author Kim Newman

Limited Edition Collector's Booklet
Here's a clip to whet your appetite: