Fresh out of uniform, supremely confident and keen to make waves, Wolcott is a man in the middle, facing hostility both from the community he polices and his colleagues in the Force. His investigations into the fatal stabbing of an old woman and a journalist soon uncover a brutal drug war being fought between criminal gangs.
A groundbreaking, high-calibre police drama, Wolcott was the first British production purposefully broadcast in the mini-series format – and also the first British drama to feature a black actor in a leading role.
Displaying the same rough, streetwise vibe as The Sweeney, Wolcott stars the charismatic George William Harris (Raiders of the Lost Ark, Layer Cake) as a tough, loner detective with a gift for rubbing people up the wrong way. Winning massive viewing figures, its controversially unflinching depiction of crime ensured that it has never been repeated or released in any format until now. With all four episodes now transferred in High Definition from the original film elements, Wolcott includes early roles for Christopher Ellison (Buster), Hugh Quarshie (Highlander), Warren Clarke (A Clockwork Orange) and Rik Mayall (The New Statesman).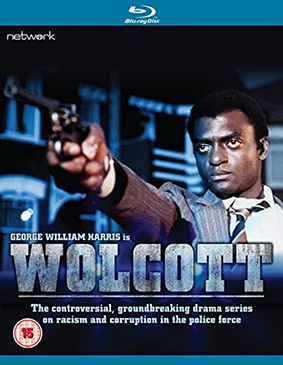 Wolcott: The Complete Series will be released on UK Blu-ray and DVD on 17th August 2015, courtesy of Network Distributing at the RRP of £19.99 for teh Blu-ray and £14.99 for the DVD.
Special features will include: