In what looks like a somewhat lucky coincidence but was probably planned from the outset,* one week before Eureka! Entertainment release Charles B. Pierce's 1976 classic The Town That Dreaded Sundown on Blu-ray and DVD, Metrodome have announced the UK DVD release of Alfonso Gomez-Rejon's 2014 remake/sequel, starring Addison Timlin (That Awkward Moment), Travis Tope (men, Women and Children), Gary Cole (Pineapple Express), Joshua Leonard (The Blair Witch Project), Anthony Anderson (Scream 4), Denis O'Hare (American Horror Story), Edward Herrmann (The Wolf of Wall Street) and Veronica Cartwright (Alien, Invasion of the Body Snatchers).
Based on a terrifying true story, director Alfonso Gomez-Rejon (American Horror Story) makes his feature debut with this shrewd remake of the cult 1976 horror/police procedural of the same name, inspired by the unsolved murder spree that took place in the American border town of Texarkana in 1946.
Set in a world in which the original film exists and is very much part of popular consciousness The Town That Dreaded Sundown picks up 65 years after a masked serial killer terrorized the small town, when the brutal "Moonlight Murders" suddenly begin again. Texarkana's quiet streets are plagued by a masked maniac who bears striking resemblance to the same Phantom Killer who wreaked havoc decades before. Is it a copycat crime? Has somebody seen the original film too many times or is it something even more sinister?
A lonely high school girl, with dark secrets of her own, may be the key to catching the murderer in this riveting collaboration between the producers of the hit series American Horror Story and the blockbuster Paranormal Activity franchise.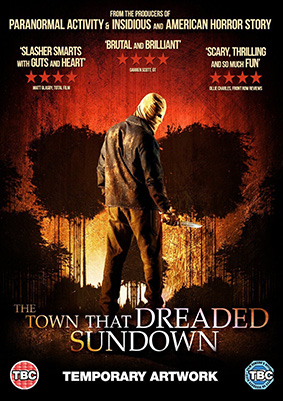 The Town That Dreaded Sundown will be released on UK DVD on 17th August 2015 by Metrodome at the RRP of £15.99.
No extra features have been listed.
* The trailer for the remake is one of the extra features on the Eureka! disc, and sports the new Metrodome logo.