The new Nordic Noir sensation, Eyewitness [Øyevitne], is a sleek, gripping crime drama from Norway, seen through the eyes of two 15 year old boys. This dark, complex thriller now lands on British soil, making its UK debut on DVD courtesy of Simply Media.
Following a wave of riveting dramas from Northern Europe comes this compelling series, which finds two school friends caught up in a terrifying scenario after witnessing a shocking crime. Produced by NRK drama, the makers of the financial thriller Mammon (recently broadcast on Channel 4), this fantastic fast-paced six-part series is written and directed by Jarl Emsell Larsen (Dirty Money, White Lies).
Philip (Axel Bøyum – Ingren grunn til panikk) and Henning (Odin Waage – Maria), school friends and neighbours, hang out together in a workers' cabin at a remote quarry, where they tentatively explore their mutual attraction. One night their illicit encounter is dramatically interrupted by the arrival of a car containing four men, and soon a gun battle is playing out before their eyes. Following the deadly attack, the boys are spotted but manage to escape, making off with the murder weapon, which they discard in a nearby rock pool.
Fearing for their lives and the consequences of someone finding out about their relationship they vow never to reveal what they have seen, but with Philip's foster mum Helen (Anneke von der Lippe – Barbara) as the local sheriff investigating the murders, it won't be easy to stay quiet, and very quickly their secret unravels into a nightmare of corruption and gang warfare.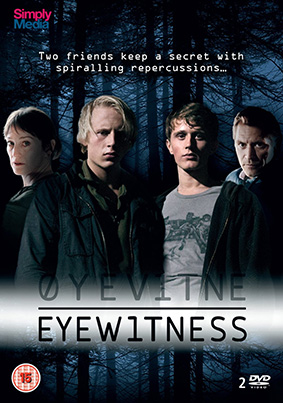 Eyewitness [Øyevitne] will be released on UK DVD on 14th September 2015 as a 2-disc sety by Simply Media at the RRP of £19.99.
No extra features have been listed.