Fans of fishy schlock horror film will no doubt be delighted to know that Sharknado 3: O Hell No!, the third in a series of increasingly daft films that have nonetheless built a small cult following, will be released on DVD and digital download in November. Yes, that's months away. How will you manage to contain your excitement?
When Fin (Ian Ziering) and April (Tara Reid) head to Florida, they are quickly warned of trouble ahead as the Sunshine State is overcome with strong winds and a dangerous tumult of rain. Suddenly, the pair find themselves in the midst of a terrifying and ruthless Sharknado, but it's just the beginning...
As the sharks tear up the coast and head towards Washington D.C. Fin and April realise time is running out for them to warn the capital, stop the Sharknado for the third time and save the President of the United States from a brutal fate!
The third installment of the cult series, which sees nature's two deadliest forces – the shark and the tornado – come together once again. Expect big laughs, plenty of gore and a host of hilarious cameos in this bonkers B-movie.*
* Not a guarantee.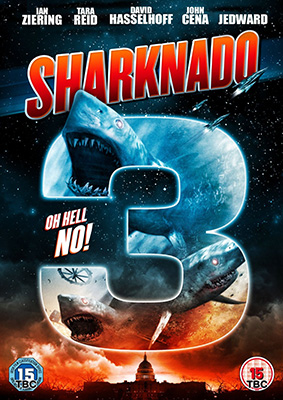 Sharknado 3: Oh Hell No! will be released on UK digital download on 2nd November 2015 and UK DVD on 9th November 2015 by Kaleidoscope Home Entertainment at the RRP of £12.99.
No extra features have been listed. I'm surprised.