Studiocanal are re-releasing Ealing Studios classic film The Maggie, released on digitally restored Blu-ray, DVD and digital download (EST) in August.
The Maggie is the 1955 BAFTA award nominated Ealing comedy by Scottish director Alexander Mackendrick (Whisky Galore!, The Man in the White Suit, The Ladykillers), nominated for Best British Film, Best British Screenplay and Best Film From Any Source.
Written by William Rose, The Maggie is a decrepit puffer boat. Its captain, the canny Mactaggart (Alex Mackenzie), is in desperate need of £300 to renew his license. A chance meeting at a shipping firm office with the American magnate Calvin B Marshall (Paul Douglas) leads to a mistaken commission to transport furniture to his new property as he plans to surprise his wife with a summer residence in the British Isles. On learning of the reality of how his goods were being transported, Marshall realises he's been conned by the crew but will he be able to stop them?
The Maggie was set in and shot around the River Clyde, the Crinan Canal and the Isle of Islay in Scotland. Through their work on The Maggie, director Alexander Mackendrick and writer William Rose went onto write The Ladykillers together.
The Maggie is part of the BFI's Britain on Film project, in which 1000's of titles will be digitised and made available online via BFI Player, as well as this physical release. Britain on Film was launched on July 7th. The Digital Film restoration was funded by Studiocanal in collaboration with the BFI's Unlocking Film Heritage programme (awarding funds from the National Lottery).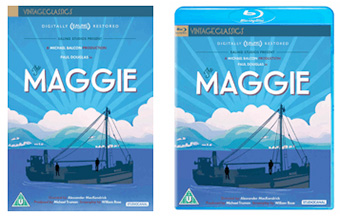 The Maggie will be released on UK Blu-ray, DVD & EST on 24th August 2015 by Studiocanal at a yet to be confirmed RRP (early sources suggest £22.99 for the Blu-ray).
Special features will include: