Eureka Entertainment is to release Charles B. Pierce's incredible, shocking and true story – the original 1976 cult classic, The Town That Dreaded Sundown, in a Dual Format edition in in August.
Two young lovers are savagely beaten and tortured on a back country road, three weeks later, two more people are killed in a similar way. When Deputy Norman Ramsey fears a pattern is developing he calls upon the help of Texas Ranger J.D. Morales (Academy Award Winner Ben Johnson from The Wild Bunch) to find "The Phantom Killer" before he can kill again.
Starring Andrew Prine and Dawn Wells, and directed by Charles B. Pierce (The Legend Of Boggy Creek), The Town That Dreaded Sundown has to be seen to believed. Based on one of America's most baffling murder cases, The Town That Dreaded Sundown is a shocking suspense-filled ride you'll never forget.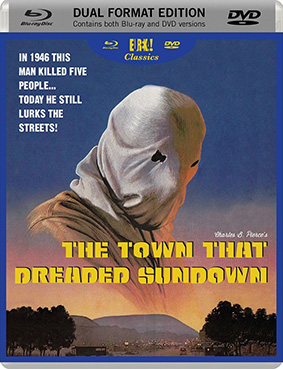 The Town That Dreaded Sundown will be released on UK dual form on 24th August 2015 by Eureka! Entertainment at the SRP of £15.95.
Featuring a brand new 1080p high-definition transfer and optional English subtitles for the deaf and hard of hearing, the release will have the following extras:
Trailers for both the original and the 2014 remake

Interviews with stars Andrew Prine, Dawn Wells, and director of photography James Roberson

Feature-length audio commentary with historians Justin Beaham and Jim Presley

Limited edition collector's booklet featuring new writing by critic Mike Sutton, reproductions of original Sundown ephemera, illustrated throughout with production stills.