Arrow Films, the distributor of The Voices and Good Kill, is pleased to announce the home entertainment release of the acclaimed Argentinean thriller The Burning [El Ardor].
Kai (Gael Garcia Bernal), a mysterious and mystical figure, emerges from the Argentinean rainforest to rescue Vania (Braga), who has been kidnapped by mercenaries. Together they face off against the men who have ruthlessly murdered Vania's father, a poor farmer, and taken over his land.
Honing the spirit of Sergio Leone and echoing shades of First Blood, Argentinean director Pablo Fendrik's slow-building thriller is, we are assured, essential viewing for all fans of world cinema. Gael Garcia Bernal (Babel, The Motorcycle Diaries) joins forces with Alice Braga (I Am Legend, Elysium) in this tale of unfolding revenge.
Part love story, part western, Fendrik turns this latter genre on its head as so-called civilisation becomes a destructive force over both the rich jungle setting and the communities living within it.
The Burning premiered in Official Selection at the 2014 Cannes Film Festival following Fendrik's previous two films' selection in Critics' Week at Cannes: Blood Appears [La Sangre Brota] and The Mugger [El Asaltante]. Garcia Bernal also takes an executive producer credit.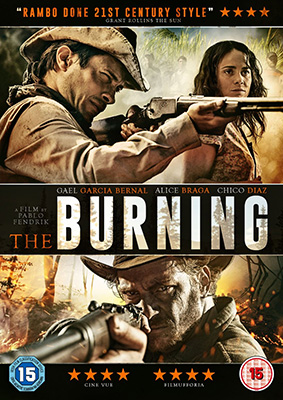 'Machete Western', The Burning, which premiered in Official Selection at the 2014 Cannes Film Festival, arrives on UK Blu-ray and DVD on 10th August 2015 from Arrow Films at a yet to be confirmed RRP.
No extra features have been listed.