Arrow Video has announced the World premiere Blu-ray release of Cemetery Without Crosses. At once a loving tribute, pastiche and deconstruction of the American Western, this Sergio Leone inspired cult classic offers a Gallic spin on the Spaghetti Western formula thanks to its star and creator, Robert Hossein (best known to English-speaking audiences for his role in Jules Dassin's Rififi).
After her husband is lynched by bandits, Michèle Mercier (Mario Bava's Black Sabbath) seeks revenge and turns to an old friend, played by Hossein, for help. A solitary figure who lives in a ghost town and dons a single black glove before each gunfight, Hossein is initially reluctant but soon infiltrates the widow's enemies to force a showdown.
Cemetery Without Crosses is a darker breed of Western, bleak and melancholy in tone amid the explosive set pieces. It also boasts an outstanding score by composer André Hossein (father of Robert) and the catchiest of themes, sung by cult figure Scott Walker.
Presented in a brand new 2K transfer of the film, this disc will also come loaded with bonus content, including new featurette Remembering Sergio, an all-new interview with star and director Robert Hossein, filmed exclusively for this release. Alongside this, the disc will also feature an original French television news report on the film's making, containing interviews with Hossein, and actors Michèle Mercier and Serge Marquand.
The disc will also include an archive interview with Hossein and the original Italian theatrical trailer, all packaged together with newly commissioned artwork by Sean Phillips and a fully-illustrated collector's booklet featuring brand new writing by Ginette Vincendeau and Rob Young, illustrated with original stills.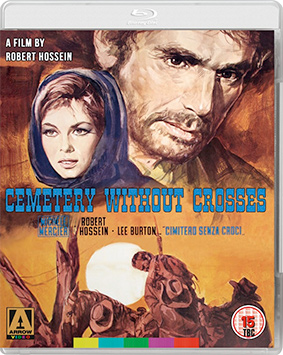 Cemetery Without Crosses will make its Blu-ray debut as part of a dual format release from Arrow Video on 20th July 2015 at the RRP of £24.99.
Featuring a brand new 2K restoration of the film from original film elements, original Italian and English soundtracks in uncompressed PCM mono audio, newly translated English subtitles for the Italian soundtrack and optional English subtitles for the deaf and hard of hearing for the English soundtrack, the release wil have these extra features:
Remembering Sergio – an all-new interview with star and director Robert Hossein, filmed exclusively for this release

French television news report on the film's making, containing interviews with Hossein, and actors Michèle Mercier and Serge Marquand

Archive interview with Hossein

Original theatrical trailer

Reversible sleeve featuring original and newly commissioned artwork by Sean Phillips

Illustrated collector's booklet containing new writing by Ginette Vincendeau and Rob Young