Second Run DVD and Regent Street Cinema – one of the most historic cinemas in Britain, now newly reopened and restored to its former grandeur – present a special screening of Anand Patwardhan's masterful, award-winning documentary War and Peace [Jang aur Aman], a film The Times of India said "should be seen by everyone, everywhere. In schools, in colleges, in factories, on television," and Duncan Campbell in The Guardian called, "A tour de force, beautifully shot and often darkly funny."
Filmed over four tumultuous years in India, Pakistan, Japan and the USA following nuclear tests in the Indian sub-continent, War and Peace is Anand Patwardhan documentary journey of peace activism in the face of global militarism and war. The film examines the Indian sub-continent's trajectory towards militarism and the costs being extracted from citizens in the name of national security.
Patwardhan's documentary has become more potent and relevant than ever as we enter an age where war has become perennial, enemies are re-invented and economies inextricably tied to the production and sale of weapons.
War and Peace will be screened at the Regent Street Cinema, 309 Regent Street, London W1B 2UW on Wednesday 15th July at 8:30pm.
Early booking is recommended. Information about the film is attached and the booking of tickets is available via this Regent Street Cinema link:
www.regentstreetcinema.com/programme/war-and-peace/
or call the Box Office on 0207 911 5050.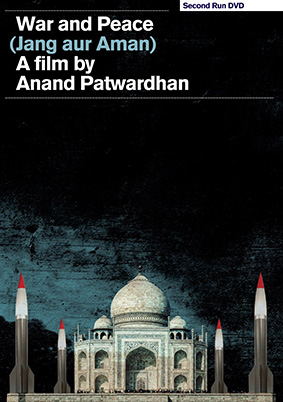 If you can't make it to London, then don't panic, as War and Peace will be released on UK DVD on 27th July 2015 by Second Run at the RRP of £14.99.
Presented in a new digital transfer, approved by the director, the n disc will have the following special features:
Filmed interview with director Anand Patwardhan

A panel discussion and debate about the film – televised on Pakistan TV

Additional scenes as selected by the director

16-page booklet featuring writings by filmmaker, curator and author Mark Cousins and philosopher, academic and author Akeel Bilgrami