Network Distributing have announced a further to titles for UK DVD release on 20th July 2015: the family drama 1943 Thursday's Child and the 1958 crime thriller Man With a Gun.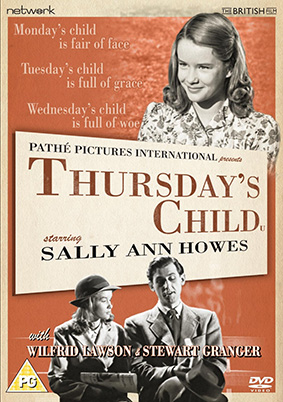 Thursday's Child (1943)
A light-hearted yet thought-provoking family drama, Thursday's Child features the film debut of Sally Ann Howes (Chitty Chitty Bang Bang) as a quiet, studious young girl who finds fame beating a path to her door – much to the chagrin of her star-struck elder sister.
Also starring Gainsborough favourite Stewart Granger (King Solomon's Mines), Wilfrid Lawson (Pygmalion), Felix Aylmer (Anastasia) and much-loved Cockney comic actor Ronald Shiner (Dry Rot), this critically acclaimed film was originally released in 1942 and re-edited for re-release in 1946.
Thursday's Child will be released on DVD at the RRP of £9.99, from 20th July 2015, as part of Network's 'The British Film' collection.
The only listed extra is an image gallery.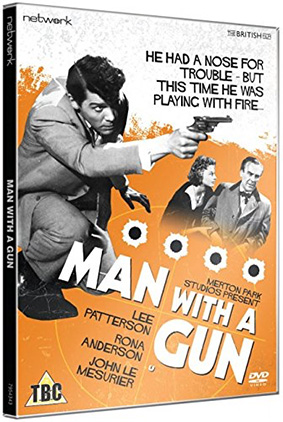 Man With a Gun (1958)
A £20,000 insurance claim is lodged when a nightclub is destroyed by fire, and claims investigator Mike Davies is assigned to get to the bottom of things. One suspect is Harry Drayson, the club owner – but if he torched his own property for the insurance, how safe are his other, heavily-insured properties..?
Cult-favourite actor and B-Movie stalwart Lee Patterson (Reach For The Sky) stars as an insurance claims investigator with a nose for trouble in this late '50s noir thriller; notable as Michael Winner's first feature-length screenwriting credit.
Man with a Gun also features the combined talents of John le Mesurier (Dad's Army), Rona Anderson (A Christmas Carol) and director Montgomery Tully (Edgar Wallace Mysteries). The film is presented here in a brand-new digital transfer from original film elements, in its as-exhibited theatrical aspect ratio.
Man With A Gun will be available to own on DVD from 20th June 2015 at the RRP of £9.99, courtesy of Network's 'The British Film' collection.
Special features will include:
Original theatrical trailer