Arrow Film has announced that it will be releasing Season 2 of the hit Danish drama The Legacy on UK Blu-ray & DVD this month as part of the Nordic Noir label.
Following the death of progressive internationally-renowned artist Veronika Grønnegaard, The Legacy traces the story of Veronika's four adult children, whose distinctive upbringing has affected their lives in very different ways. The division of Veronika's estate marks the beginning of a journey into a complex set of secrets and lies for her four children. The series paints a portrait of a Danish family and their children, coming to terms with the challenges of change and the traces of violent upheaval from their past.
Featuring some of Denmark's top acting talent, The Legacy – Season 2 stars Trine Dyrholm (Love Is All You Need, A Royal Affair) Jesper Christensen (Quantum Of Solace, Casino Royale), Carsten Bjørnlund (The Thing), Mikkel Boe Følsgaard (A Royal Affair, The Keeper Of Lost Causes) and Marie Bach Hansen.
Currently airing on the Sky Arts channel, The Legacy is directed by internationally acclaimed actor/director Pernilla August and created by author Maya Ilsøe, it is produced by DR – the BAFTA and International Emmy Award-winning production company behind The Killing and Borgen.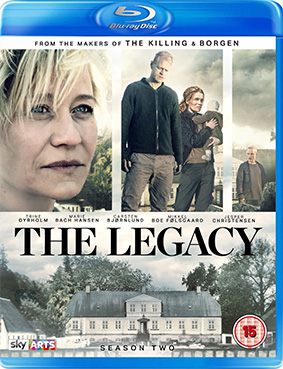 The Legacy – Season 2 will be released on UK Blu-ray and DVD on 27th July 2015 at the RRP of £29.99 for the Blu-ray and £24.99 for the DVD set.
No extra features have been listed.