2-year-old Tatsuo Fukuda, nickname "Fuku-chan" (Miyuki Oshima), is a painter who lives in a run-down apartment complex called Fukufuku Flats. He spends his days working up a sweat painting buildings, his nights mediating disputes between the other denizens of Fukufuku Flats, and his days off flying handmade kites down by the riverside.
One day, an unfamiliar woman turns up at Fukufuku Flats. It is Chiho, his first love from his junior high school days who he has not seen for around 20 years, and she has come to apologize for something that happened in their past. As Fuku-chan allows himself to get caught up in Chiho's quest to become a photographer, he begins to fall in love all over again with this woman who was responsible for the traumatizing incident that led to his fear of women...
A UK-Germany-Italy-Taiwan-Japan co-production (the first of its kind!), Fukuchan of Fukufuku Flats [Fukufukusou no Fukuchan] is the latest film from director Yosuke Fujita, whose debut feature Fine, Totally Fine quickly became a cult favourite, and stars Miyuki Oshima (from 'Morisanchu' one of Japan's top comedy troupes), Asami Mizukawa (Bilocation, Nodame Cantabile) and Yoshiyoshi Arakawa (Fine Totally Fine, Memories of Matsuko, Survive Style 5+)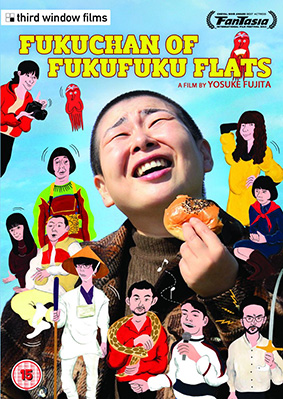 Fukuchan of Fukufuku Flats will be released on UK DVD on 13th July 2015 by Third Window Films at the RRP of £14.99.
Special features will include:
Roundtable discussion with actress Miyuki Oshima, director Yosuke Fujita & producer Adam Torel

Interview with director Yosuke Fujita

Theatrical trailer