Based on one of the most notorious race-related murder cases in US history, Alan Parker's (The Commitments, Angel Heart), multi-award winning Mississippi Burning gets its first ever UK Blu-ray release in September courtesy of Second Sight.
When three civil rights activists go missing deep in Ku Klux Klan territory, the FBI are called in to investigate. Agents Ward (Willem Dafoe – Platoon) and Anderson (Gene Hackman – The French Connection) are poles apart in their approach, one methodical and by-the-book, the other more cynical with age and willing to do whatever it takes to get the job done. Facing an uncooperative local police force and a community too afraid to talk, their investigation sparks repercussions as they edge even closer to the truth.
Amongst its many accolades, Mississippi Burning won an Oscar and was nominated for a further six Academy Awards, along with three BAFTA wins and Gene Hackman garnered the best actor award at Berlin International Film Festival. The film also features notable performances from Frances McDormand (Fargo), Brad Dourif (Wise Blood), R. Lee Ermey (Full Metal Jacket) and Michael Rooker (The Walking Dead).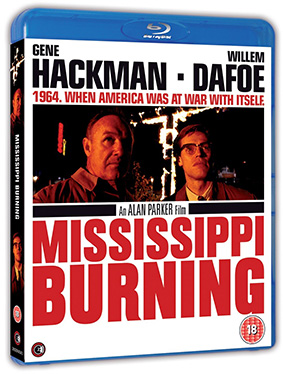 Mississippi Burning will be released for the first time on UK Blu-ray on 14th September 2015 by Second Sight at the RRP of £19.99.
Special features will include:
Through the Storm – an interview with director Alan Parker

Remembering Mississippi Burning – an interview with actor Willem Dafoe

Under Seige – an interview with writer Chris Gerolma

Audio commentary with Alan Parker