Rinko (Asuka Kurosawa from Cold Fish) and Shigehiko (novelist Yuji Kotari) are a strange couple, whose physical mismatch (she a lithe beauty, he an overweight, balding, obsessive-compulsive neurotic) is reflected in the complete lack of intimacy between them. They connect as human beings, but they live more like friends than as lovers and lead nearly independent lives. Both seem comfortable with this coexistence, but the desires that lurk beneath its surface are brought out with the introduction of a third element into the equation.
When Rinko receives a package of candid photographs of herself masturbating and the sender (played by Tsukamoto himself) contacts her with the threat of exposing them to her husband, she submits herself to the anonymous voyeur's sexual games. If she wishes to get hold of all the negatives and prints, Rinko is to comply with a set of assignments that place her constantly on the borderline between humiliation and pleasure – the voyeur knows exactly what Rinko's personal erotic fantasies are and makes her act them out one by one.
One of the most talked-about Japanese cult films of all time, Snake of June [Tokugatsu no hebi] makes its way onto Blu-ray for the first time ever with a brand new high definition transfer supervised by Outsider favourite director Shinya Tsukamoto (Tetsuo: The Iron Man, Bullet Ballet, Tokyo Fist).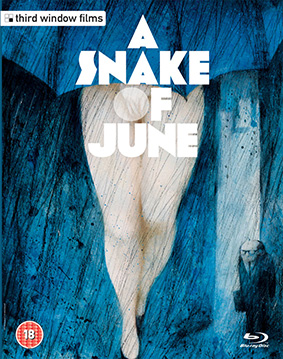 Snake of June will make its UK Blu-ray debut on 28th September 2015 from Third Window Films at a yet to be confirmed RRP.
Featuring a new high definition transfer of the 'blue' version restored from original negatives by Shinya Tsukamoto, the disc will have the following extras:
Collectable case with slip-case cover

New interview with the Shinya Tsukamoto

New audio commentary by Tom Mes, author of 'Iron Man: The Cinema of Shinya Tsukamoto'

New UK trailer
In the mean time, here's the old UK trailer: