In a small town on the edge of the Yorkshire Moors, two runaway teenagers, Laila and Aaron, have taken sanctuary in a remote caravan park. Lying low, they live a hand to mouth existence. But a relentless gang of bounty hunters, hired by Laila's father, are in pursuit. Desperate to escape, the young lovers are forced to travel deeper into the unforgiving terrain of the Moors and an uncertain fate.
Catch Me Daddy is a highly original portrayal of Love on the Run, a compelling blend of modern-day Western and visceral chase-thriller, set against a uniquely British backdrop. Marking one of the most intriguing feature film debuts of recent years, Catch Me Daddy was directed by award winning music video and commercials director Daniel Wolfe, previous winner of the Best Director Award at the UK Music Video Awards (2010), and co-directed and co-written with brother Matthew Wolfe. His standout credits include most famously the Jake Gyllenhaal starring video for Time to Dance by The Shoes, which became an instant YouTube sensation and was shot by acclaimed cinematographer Robbie Ryan (Fish Tank, Wuthering Heights), who reunites with Daniel on this film.
Following on from its critically acclaimed world premiere during Directors' Fortnight at Cannes 2014, Catch Me Daddy made its British debut at the 2014 BFI London Film Festival, earning lead actress Sameena Jabeen Ahmed the award for Best British Newcomer for the role of Laila, her first ever acting role. Her powerful performance earned her similar recognition at the 2014 BIFAs where she received the award for Most Promising Newcomer. Having also been nominated for Best Actress, this rounded out a highly successful festival run that also saw Catch Me Daddy earn awards for Best Screenplay and Best Cinematography at the 2014 Dinard British Film Festival.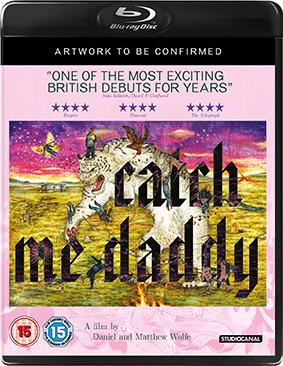 Desceibed by Dazed and Confused as "One of the most exciting British debuts for years" and The Financial Times as "Haunting, original, unplaceable," Catch Me Daddy will be released on UK DVD, Blu-ray and EST download on 27th July 2015 by Studiocanal at the RRP of £17.99 for the DVD and £22.99 for the Blu-ray.
The only listed extra feature is the music video for The Shoes' Time to Dance starring Jake Gyllenhaal, directed by Daniel Wolfe.