Eureka! Entertainment to release Haskell Wexler's Medium Cool, a penetrating look at America's continuing fascination with sensationalism and violence during a turbulent era.
A carefully crafted, open-to-everything mixture of live-wire reality and controlled narrative, Medium Cool is the debut fiction feature of Haskell Wexler, who had already established himself as one of Hollywood's premiere cinematographers in the post-studio-system-era on such films as Elia Kazan's America, America and Mike Nichols' Who's Afraid of Virginia Woolf?. In 1968, he hurled himself into the tear-gas of the cultural-political moment. The result was, alongside Bonnie and Clyde and Easy Rider, a seminal early work of what came to be known as "the New Hollywood".
John (the prolific Robert Forster, who would find latter-day fame in Jackie Brown, Mulholland Drive, and Breaking Bad) plays a television cameraman who has become disenchanted as a creative subservient to the mainstream. Eileen (Verna Bloom latterly of High Plains Drifter and After Hours) depicts a newly relocated war-widow swept up in the maelstrom of the conflicts of the 1968 Democratic National Convention in Chicago – the actual events of which serve as the spontaneous backdrop for Wexler's picture.
Documentary and narrative blur in the upheaval and chaos, and perhaps only Peter Watkins' Punishment Park stands analogous as such a powerful statement on the politics, media, and cinema of the late-'60s – and the present.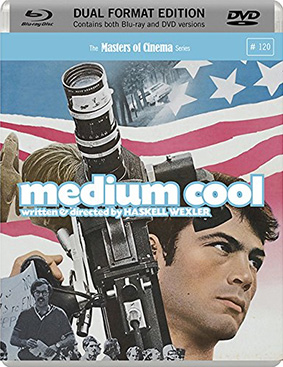 Medium Cool makes its UK Blu-ray debut in a dual format edition to be released on 24 August 2014 by Eureka! Entertainment as part of the Masters of Cinema series at the SRP of £19.99.
Featuring a gorgeous 1080p presentation of the film on Blu-ray from the 4K digital film transfer approved by director Haskell, the release will have these extras: