Eureka Entertainment to release Listen Up Philip, the critically acclaimed comedy drama starring Jason Schwartzman, Elisabeth Moss & Jonathan Pryce in a Dual Format (Blu-ray & DVD edition) in the UK on 27th July.
Combining intellectual ambition with a singular comic sensibility, the third feature film by writer-director Alex Ross Perry marked a defining moment for the American independent cinema of the 2010s. As with his previous features Impolex and The Color Wheel, the blackly hilarious Listen Up Philip is distinguished as much by its literary pedigree as by its fine attunement to atmosphere, sense of place, and, enabled by the camerawork of Sean Price Williams, the texture of the image.
Jason Schwartzman, in one of his most accomplished roles since such Wes Anderson collaborations as Rushmore and The Darjeeling Limited, achieves the height of comic verbal violence as the novelist Philip Lewis Friedman who, having received his first taste of literary acclaim, embarks upon the publicity campaign for his soon-to-be-published second novel, Obidant. The attention of his literary hero Ike Zimmerman (played by the first-rate Jonathan Pryce), a major novelist some decades his elder, leads to an open invitation to abscond from Brooklyn and work from Zimmerman's small-town home upstate. And so the stage is set for all-out warfare between Philip's seemingly irrepressible ego and the emotionality of his talented photographer girlfriend Ashley who, in a brilliant performance by Mad Men's Elisabeth Moss, exhibits the kind of dynamism that could dull Philip's edge for good.
Put into relief by a cast including Krysten Ritter, Joséphine de La Baume, Keith Poulson, Kate Lyn Sheil, and Dree Hemingway, Schwartzman-as-Friedman embodies what must be one of the most charmingly loathsome or most diabolically winning personalities in recent films.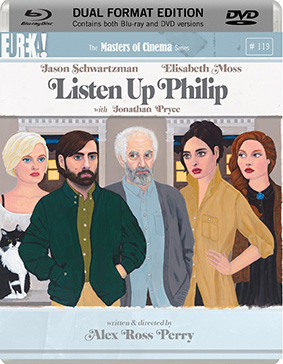 Described by Manohla Dargis of The New York Times as "a masterwork about what it is to live for love and not just the self," Listen Up Philip will make its UK debut on Blu-ray and DVD as a dual format release from Eureka! as part of the Masters of Cinema series on 27th July 2015 at the SRP of just £15.95
Featuring (we are assured) a gorgeous 1080p presentation of the film on Blu-ray and optional English subtitles for the deaf and hard-of-hearing, the release will have these extras:
New and exclusive video conversation between director Alex Ross Perry and cinematographer Sean Price Williams

New and exclusive video interview with graphic designer Teddy Blanks, the creator of the Zimmerman and Friedman book jackets featured in the film

Feature-length audio commentary with Alex Ross Perry

Original theatrical trailer

The Making of Listen Up Philip

Jason & Sean vs The Cops

36-page full-colour booklet containing writing on the film and full-colour reproductions of the Zimmerman and Friedman book jackets, accompanied by never-before-published synopses of each novel written by Perry
Listen Up Philip is screening in cinemas now, and available On Demand.