A baby is born from a bamboo plant, grows quickly into a beautiful young woman, turns away suitor after suitor, and on the night of the full moon returns there with the celestial beings who have come for her. The Tale of the Bamboo Cutter is familiar to everyone in Japan and to many around the world as well. We never learn, however, why the Princess Kaguya leaves her heart here on Earth, and why she grieves so at having to return to the moon. What and who did she love here? What was her crime? What was her punishment?
The Tale of The Princess Kaguya, the latest feature from acclaimed Studio Ghibli co-founder Isao Takahata, following his acclaimed masterpieces Grave of The Fireflies and My Neighbours The Yamadas, is the fruit of a decades long love for Japanese Fairytale.
55 years ago, Isao Takahata, then a protégé of one the great directors of the day Tomu Uchida, contributed to plans for a grand project by Uchida to make an animated feature of the classic The Tale of The Bamboo Cutter. Though never realised at that time, the scenarios he created for his heroine, the Princess, never left Takahata. Later when he created ,with Hayao Miyazaki, the animated TV series Heidi, A Girl of The Alps they noted the similarities to The Princess Kaguya. Both heroines growing up in a beautiful mountain environment, from which the adults in their lives remove them in favour of life in the city, and there they both long for the lost mountain home. 'Someday we should make a Japanese Heidi' Takahata and Miyazaki agreed after Heidi, A Girl of the Alps and now, 40 years later their long cherished ambition has come to the screen.
Joining with Princess Mononoke Art Director Kazuo Oga, Takahata moved production of the film outside Studio Ghibli to experiment with wholly new animation processes. In traditional hand drawn animation, backgrounds are separate from character cells, but for The Tale of The Princess Kaguya, Takahata wanted to unite backgrounds and characters to provide the dream of all animators, the impression of an entire picture in motion. The sketch-like compositions of the film go far beyond conventional animation in bringing the characters vividly to life. Takahata's triumph has been to pair an age-old story with a new style of cutting age animated expression, one that will long be remembered in the history of the medium.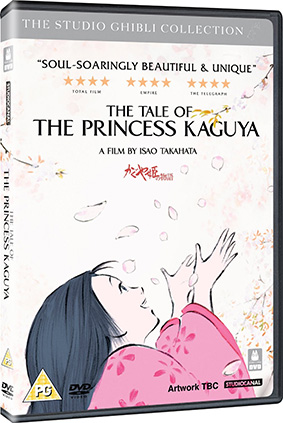 The Tale of Princess Kaguya will be released on UK DVD and Double-Play (containing Blu-ray and DVD editions) on 13th July 2015 by Studiocanal at the RRP of £19.99 for the DVD and £29.99 for the Double-Play edition. Some on-line retailers are also offering a Blu-ray only edition for the RRP of £24.99, but this has yet to be confirmed.
Extra features will include:
Film completion announcement

Japanese trailers

Japanese TV spots

Studio Ghibli Collection trailers