Highly influential and internationally acclaimed, the fondly-remembered work of husband-and-wife animation team John Halas and Joy Batchelor encompassed children's series, public education films and adverts, and they were affectionately referred to as 'the British Disney'. This collection of short films will both remind and reinforce how stunningly innovative, whimsically humorous and subversively entertaining their four decade body of work actually was.
From an uncannily prophetic, Oscar-nominated satire on technological overkill and automated gridlock (Automania 2000) to the adventures of two paper-cutout canines (Snip and Snap), the films present wide-ranging content in a gloriously inventive fashion.
Drawn from an archive that includes numerous international award winners, these animated gems have been newly transferred in High Definition from the original film elements; all showcase the beguiling humour, questing yet playful spirituality and sheer technical brilliance that characterised the studio's output, serving as both an introduction to and celebration of a unique body of work that is ripe for re-evaluation.
This set includes:
The Magic Canvas
Flying Free
The Owl and the Pussycat
Figurehead
The History of Cinema
Foo-Foo: The Stowaway
Habatales: The Cultured Ape
Snip and Snap: Top Dogs
Hamilton the Musical Elephant
Automania 2000
DoDo - The Kid from Outer Space: The Kidnapped Kid
Tales from Hoffnung: The Symphony Orchestra
Flow Diagram
The Question
Children and Cars
Butterfly Ball
Autobahn
Dilemma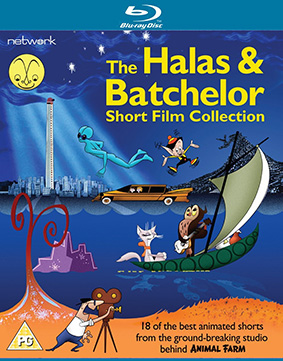 The Halas & Batchelor Short Film Collection will be released on UK Blu-ray and DVD on 29th June 2015 by Network Distributing at the RRP of £14.99 for the Blu-ray and £12.99 for the DVD.
No extra features have been listed.