Network have announced the latest two additions to 'The British Collection', a project launched by Network Distributing in April 2013 as part of a five-year plan to release over 450 vintage British films through a deal with Studiocanal. The titles are the 1959 mystery thriller Deadly Record and the 1957 comedy romance Second Fiddle.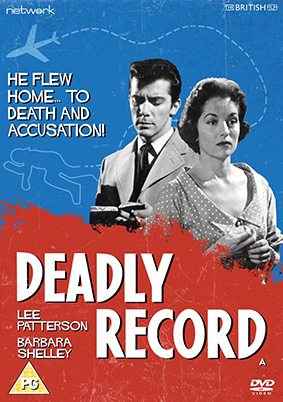 Deadly Record (1959)
When pilot Trevor Hamilton touches down at London Airport, his wife Jenny is not there to met him. Their marriage is on the point of collapse, and when Jenny is found dead, Hamilton becomes Suspect Number One. With the police searching for enough evidence to arrest him, Hamilton desperately interviews everyone in Jenny's social circle to find the real murderer.
Hammer icon Barbara Shelley (Village Of The Damned, Dracula: Prince Of Darkness) stars alongside cult actor Lee Patterson (Reach For The Sky, One Life To Live) in this brilliantly taut and compelling thriller from the late '50s.
Deadly Record will be released on UK DVD on 29th June 2015 at the RRP of £9.99, courtesy of Network's 'The British Film' collection.
Deadly Record is featured here in a brand-new transfer from the original film elements, in its as-exhibited theatrical aspect ratio.
The only listed extra is the original theatrical trailer. Which is right here: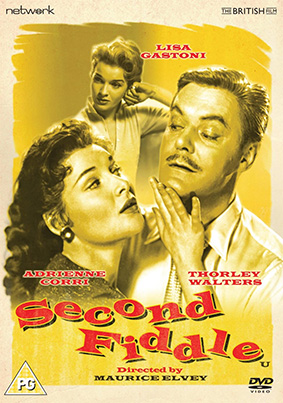 Second Fiddle (1957)
Deborah and Charles, young executives at the thriving Pontifex Advertising Agency, are very much in love. Deborah is recognised by her employers as the most brilliant TV executive in the country, while Charles is regarded as 'thoroughly reliable'. But there is one hard-and-fast rule at the agency: the board of directors will not allow any married women on their staff; as soon as a girl marries, she must resign. A seemingly insurmountable problem is thus posed for Deborah and Charles…
The final film by veteran director Maurice Elvey (The Clairvoyant, Trans-Atlantic Tunnel) takes a wry look at gender politics in the 1950s workplace in this sharply intelligent, long sought-after comedy that was thought lost for many years.
Second Fiddle will be released on UK DVD at the RRP of £9.99 on 29th June 2015 as part of Network's 'The British Film' collection.
The only listed extra is an image gallery.
Here is a clip: