Network have announced a further two titles in 'The British Film' collection: the two-film The Jessie Matthews Revue: Volume 2 and Tamahine. Both will be released on UK DVD on 29th June.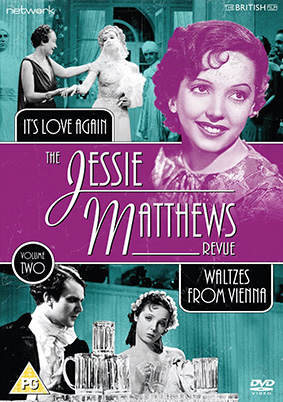 The Jessie Matthews Revue: Volume 2
Throughout the 1930s Jessie Matthews was Britain's best-loved musical film star, her dynamism and gamine charm captivating audiences on both sides of the Atlantic in a string of box-office hits.This second volume of her work has the following titles:
It's Love Again (1936)
A young actress secretly seizes the opportunity to play the part of an imaginary socialite invented by a gossip columnist. The enigmatic beauty becomes a celebrity, but the columnist is mystified when his fictional star appears in person!
Waltzes From Vienna (1934)
Directed by Alfred Hitchcock, this charming musical comedy follows a pretty girl who works in the bakery in which an aspiring composer is also forced to work by his father. Can she help him achieve his dreams despite his father's objections?
Showcasing some the era's finest cinema talent – including directors Victor Saville and Alfred Hitchcock in a change from his normal fare; actors Robert Young (Father Knows Best, Secret Agent) and Esmond Knight (Hamlet, Black Narcissus), as well as comedy star (and Matthews' husband) Sonnie Hale (First a Girl, Evergreen) – the two films on this volume are presented as transfers from the original film elements, in their as-exhibited theatrical aspect ratios.
The Jessie Matthews Revue: Volume 2 is out on DVD on 22nd June 2015 at the RRP of £12.99, courtesy of Network's 'The British Film' collection.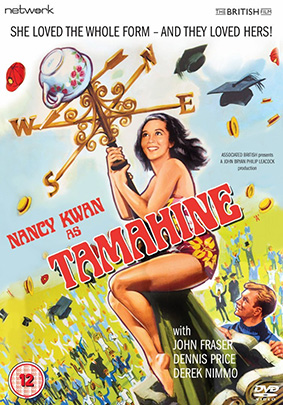 Tamahine (1963)
Golden Globe award winner Nancy Kwan (The World Of Suzie Wong, Flower Drum Song) stars as a lovely young half-Polynesian girl in this comedy from 1963.
When her father dies, Tamahine is sent to England to visit her father's cousin, headmaster of a celebrated boys' public school. She has a disturbing influence on boys and masters alike, however, with all and sundry falling under the spell of her natural beauty and charm!
Boasting an equally strong support cast, with Dennis Price (Victim, Tunes Of Glory) as the staid guardian who is both bewitched and inspired by her presence, the film also earned a BAFTA nomination for Geoffrey Unsworth, the double-Oscar winning cinematographer whose credits include Cabaret, Tess and 2001: A Space Odyssey.
Tamahine is featured here in a brand-new transfer from the original film elements in its as-exhibited aspect ratio.
The BAFTA-nominated Tamahine will be available to own on DVD at the RRP of £9.99 from 29th June 2015, as part of Network's 'The British Film' collection.
The only listed extra is an image gallery.