Ingrid can see in her dreams. The way the world around her looks, her husband's office, their favourite restaurant... memories. It's when Ingrid wakes each morning and opens her eyes that she suddenly remembers she is blind. With her life dramatically changed, Ingrid has retreated to the safety of her apartment where she can feel in control once again. Her imagination becomes her reality - her deepest fantasies, desires and fears provide a constant internal monologue. Inventing her own world to substitute the one she has lost. But how can Ingrid make sense of all that is happening to her and who can she trust now?
Winner of the World Cinema Screenwriting Award at Sundance Film Festival and Best European Film at Berlin Film Festival, Blind, the directorial debut of acclaimed screenwriter Eskil Vogt (Reprise, Oslo, August 31st), is a playful, touching and provocative story of a young woman's journey to rediscover herself, her husband and the life that she once knew.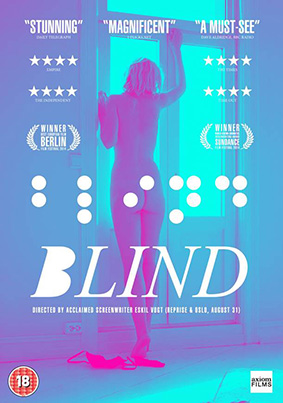 Described as "Stunning" by Tim Robey in The Daily Telegraph and "An outstanding directorial debut" by The Huffington Post, Blind will be released on UK Blu-ray, DVD and Video on Demand on 22nd June 2015 from Axiom Films at the RRP of £19.99 for the Blu-ray and £15.99 for the DVD.
Extra features will include:
Exclusive interview with Writer/Director Eskil Vogt

Blind at the Sundance Film Festival

Music video Lantern by The White Birch

Trailers