Having just served a prison term for possession of heroin, poker dealer Frankie vows to stay clean and find success as a jazz drummer. His wife, left disabled by a car crash, is equally determined he should remain in the lucrative gambling business. And after being asked to deal in a high-stakes game, Frankie's fear of failure leads him straight back to Louie the dope pusher.
One of America's most significant and controversial post-war films, this triple-Oscar-nominated feature boasts a searing performance by Frank Sinatra as Frankie Machine, a war veteran caught between two worlds as he tries to kick his drug habit and establish a new life.
With its groundbreaking subject and an authenticity rarely matched in the many films it inspired, The Man With The Golden Arm combines masterly direction by Otto Preminger (Anatomy Of A Murder, Laura) and a jazz score by the legendary Elmer Bernstein (Cape Fear, The Magnificent Seven). Eleanor Parker (The Sound Of Music, Detective Story) plays Frankie's embittered, manipulative wife, and Kim Novak (Vertigo, Picnic) is the young woman who stands by him.
The film is featured here in a stunning new transfer, in its as-exhibited theatrical aspect ratio.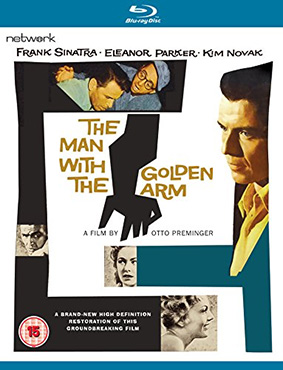 The Man With The Golden Arm will be released on 22nd June 2015 on Blu-ray at the RRP £14.99, and DVD at the RRP of £9.99, courtesy of Network Distributing.
The only listed extra feature is an Image Gallery.