Whilst holidaying in Paris, Ollie is heartbroken to learn that Georgette, the beautiful innkeeper's daughter with whom he has fallen in love, is already married to a handsome Foreign Legion officer. In an attempt to forget her, he decides to join the Legion, persuading Stanley to join him. The hapless pair are posted to Morocco, where an unfortunate chain of events ends with them being charged with desertion and sentenced to death by firing squad!
Released in 1939, co-scripted by silent-era star Harry Langdon and featuring a guest appearance from long-standing Laurel and Hardy nemesis James Finlayson, The Flying Deuces is among the eternally popular duo's best-loved films. It is presented here in its as-exhibited theatrical aspect ratio and has never looked better.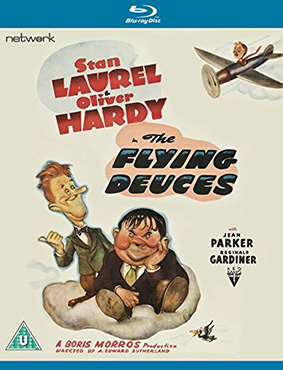 The Flying Deuces will be released on UK Blu-ray and DVD on 15th June 2015 by Network Distributing at the RRP of £14.99 for the Blu-ray and £12.99 for the DVD.
Special features will include:
Here's a clip: