Co-written by a young Federico Fellini (La Dolce Vita, Amarcord) and directed by Alberto Lattuada (Christopher Columbus), this award-winning film from the earlier years of Italian Neo-realist cinema stars John Kitzmiller (Dr. No) as a black G.I. who opts to stay in Italy rather than return to a racially segregated U.S. after falling in love with an impoverished local girl.
While its groundbreaking theme of inter-racial love made Without Pity one of the most significant and daring films of the immediate post-War period, it was banned in the United States and, as such, has never received wider recognition for its frank, sensitive handling of a subject that for many years was still controversial.
The film also stars Carla Del Poggio, Giulietta Masina (la Strada, Juliet of the Spirits) and Folco Lulli (The Wages of Fear, Girl from La Mancha), was produced by Carlo Ponti (Doctor Zhivago, La Strada) and has a music score by Nino Rota, who was nominated for an Oscar for his work on The Godfather and won a joint gong with Carmine Coppola for The Godfather, Part II.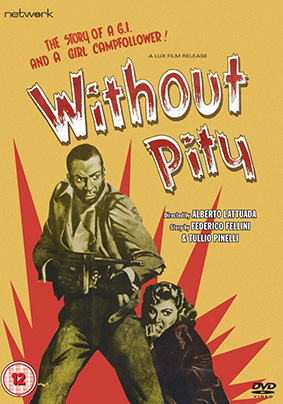 Without Pity will be released on UK DVD on 8th June 2015 by Network Distributing at the RRP of £9.99.
No special features have been listed.
It should be noted that some on-line retailers are listing a Blu-ray release of the film as well, and have even posted an angular box shot (these really aren't worth the effort to fake), but we've had no confirmation yet from network that a Blu-ray edition will be released alongside the DVD.