Terracotta Distribution have announced the fourth title in their 'Classic Kung Fu Collection', a series of lost martial arts rarities from the golden age of Asian action cinema, unearthed from the vaults and available on DVD for the first time in the UK.
Two highly acclaimed martial arts schools see their centuries-old rivalry explode when their kung fu masters meet for a secret duel. The loser is forced into exile but many years later bitter rivalries reignite: the Crane Fist School and the Snake Fist School meet again, each vowing to destroy the other - this time for good.
The Dragon's Snake Fist [Xue zhan wu ying quan] is a forgotten martial arts exploitation classic from prolific cult director Godfrey Ho, often referred to as 'the Ed Wood of Hong Kong Cinema' for his sprawling back catalogue of B-movies.
Starring Dragon Lee – one of the best of the Bruce Lee clones that emerged in the wake of the great actor's death – alongside Yuen Qiu (Kung Fu Hustle), and other veteran Bruce Lee-alike Bruce Lai (Return to the 36th Chamber).
A veteran star of martial arts B-pictures and Korean Taekwondo expert, Dragon Lee (or Geo Ryong in Korean) became popular due to his resemblance to the martial arts icon. However, in the 70's and 80's he became a star in his own right, appearing in over 30 feature films. Yuen Qiu apprenticed Chinese martial arts and Beijing-opera skills with Jackie Chan and Sammo Hung under the same master, Yu Jim-yuen, whilst at the Beijing Opera School. Early in her career, late 60s 'til the early 70s, she worked as a female stunt artist, had a small role in the James Bond film, The Man with the Golden Gun and, later, starred in 2004 international smash hit, Kung Fu Hustle.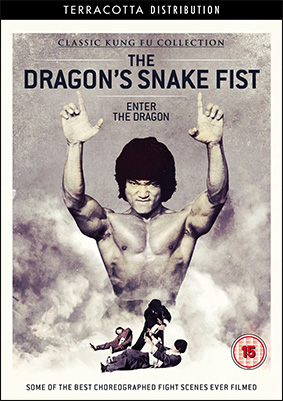 The Dragon's Snake Fist will be released on UK DVD by Terracotta Distribution on 15th June 2015 at the RRP of £14.99.
No special features have been listed.