Following the success of their most recent foreign language TV drama titles, notably Gommorah and The Legacy, and the upcoming 1864 and The Saboteurs, Arrow Films will continue to house quality international crime thriller shows from various European territories and beyond, under their newly launched sub-label 'Noir'.
Hot off the heels from the release of Fogs and Crimes Season 2, these new releases continue with the arrival of The Spider [Edderkoppen], the classic Danish series which first aired in 2000. Several cast members from The Spider would go on to star in the most popular Danish shows such as The Killing and Borgen.
Copenhagen 1949. When young, idealistic journalist Bjarne Madsen (Jakob Cedergren) receives a tip-off about organised crime and black marketeering on a grand scale he decides to unravel the threads of the extensive network and work his way to the "Spider" himself. A highly esteemed crime reporter tries to dissuade him, but Bjarne is fearless—even when it transpires that there may be links from the Copenhagen underworld leading to the top echelons of the police force.
The Spider features an array of well-known Danish stars of series such as The Killing, Borgen and The Legacy, including Lars Mikkelsen, Stine Stengade, Bjarne Henriksen, Trine Dyrholm and Nikolaj Lie Kaas.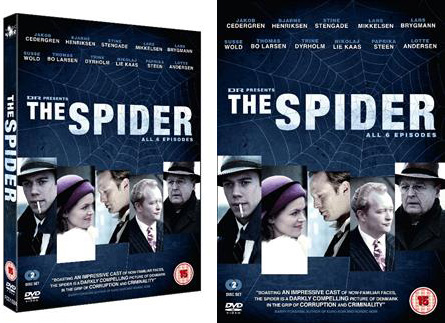 All 6 episodes of The Spider will be released on UK DVD on 15th June 2015 by Arrow Films as a 2-disc set at a yet to be confirmed RRP.
No special features have been listed.
The only extract we could find is shorn of English subtitles, but it does give a taste of the series' mood.