Following Songs from the Second Floor and You, the Living, Roy Andersson's new, award-winning film (Best Film Venice 2014), the enigmatically titled A Pigeon Sat on a Branch Reflecting on Existence [En duva satt på en gren och funderade på tillvaron] forms the third part of a loose trilogy about life, death and what it means to be a human being.
Sam and Jonathan are two travelling salesmen peddling novelty items – mostly unsuccessfully. Like a modern day Don Quixote and Sancho they take us on a kaleidoscopic journey through multiple human destinies. It is a trip that shows us beauty in one moment, pettiness in another and the humour and tragedy within us all. One that evokes the grandeur of life as well as the ultimate frailty of humanity.
By turns tragic, absurd, meditative and hilarious his work has drawn comparisons with Samuel Beckett, Monty Python, Ingmar Bergman and Laurel & Hardy, but in truth is utterly unique. Pulling together all the various strands of his previous films into a cohesive, resolved whole, A Pigeon... is the culmination of one of modern cinema's greatest talents and is nothing short of a masterpiece.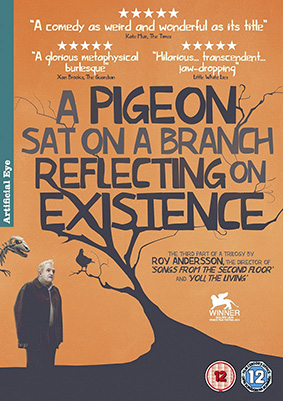 A Pigeon Sat on a Branch Reflecting on Existence will be released on UK Blu-ray and DVD on 13th July 2015 by Artificial Eye at the RRP of £19.99 for the Blu-ray and £15.99 for the DVD.
Special features will include:
Commentary with director Roy Andersson

Behind the scenes featurette

Trailer