Eureka Entertainment to release Billy Wilder's Stalag 17, the acclaimed World War II comedy drama of spies and sabotage, honour and bravery, on Blu-ray for the first time in the UK on 27th July 2015.
Billy Wilder followed up his brilliant Ace in the Hole with this darkly comic adaptation of Donald Bevan's and Edmund Trzcinski's stage play about an assortment of American airmen getting through the days in a German POW camp at the twilight of the Second World War.
William Holden stars as the laconic J.J. Sefton, a prisoner whose cynical and mercenary disposition leads his fellow prisoners to conjecture his role as an informant after two men are shot in an attempt to escape the compound. But who exactly is the real spy shuttling inside knowledge to the ever-watchful Oberst von Scherbach (director Otto Preminger in what would become an iconic screen-role)? Only after the film builds towards an explosive crescendo is the answer finally revealed...
A commercial success upon its release in 1953, Stalag 17 retains its reputation as one of the finest World War II films of all-time.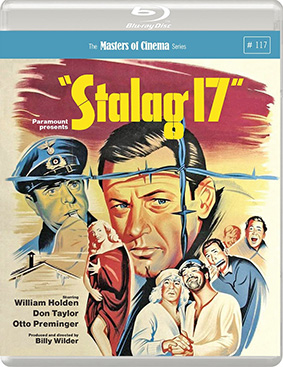 Stalag 17 will be released on UK Blu-ray on 27th July 2015 by Eureka! Entertainment as part of the Masters of Cinema series at the SRP of just £15.95.
Featuring a gorgeous 1080p presentation of the film on Blu-ray and optional English subtitles for the deaf and hard-of-hearing, the disc will have the following extras:
New video interview with film scholar Neil Sinyard

Stalag 17: From Reality to Screen featurette

The Real Heroes of Stalag 17 featurette

Feature length commentary by actors Richard Erdman & Gil Stratton and co-playwright Donald Bevan

36-page booklet containing an essay, interview material, and rare archival imagery