A model Swedish family – handsome businessman Tomas, his wife Ebba and their two beautiful children – are on a skiing holiday at a high-end resort in the French Alps. The sun is shining and the slopes are spectacular, but during lunch at a mountainside restaurant, an avalanche suddenly bears down on the happy diners. With people fleeing in all directions and his wife and children in a state of panic, Tomas makes a decision that will shake his marriage to its core and leave him struggling to reclaim his role as family patriarch.
A critical favourite at the 2014 Cannes Film Festival, where it took the Jury Prize in the Un Certain Regard category, Force Majeure [Turist] is a wickedly funny and precisely- observed black comedy that marks Ruben Östlund as one of Europe's most piercingly intelligent filmmakers.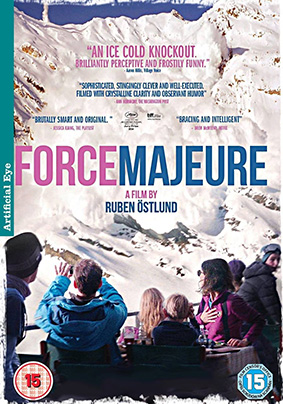 Described by Variety as "An ice cold knockout... Brilliantly perceptive and frostily funny," Force Majeure will be released on UK Blu-ray and DVD on 29th June 2015 by Artificial Eye at the RRP of £19.99 for the Blu-ray and £15.99 for the DVD.
No special features have been detailed as yet, but being Artificial Eye we're expecting something.