After years of post-Peter Jackson stagnantion, New Zealand horror-comedy appears to be in the ascendent. Just recently we had Jemaine Clement and Taika Waititi's glorious What We Do in the Shadows, but 2014 also gave us director Gerard Johnstone's Housebound, a film described by Variety as "A marvelously entertaining combo of haunted-house thriller, murder mystery and domestic comedy."
Kylie Bucknell is forced to return to the house she grew up in when the court places her on home detention. Her punishment is made worse by the fact she has to live there with her mother Miriam who's convinced that the house is haunted. Kylie dismisses Miriam's superstitions. However, when she too becomes privy to unsettling whispers & strange bumps in the night, she begins to wonder whether she's inherited her overactive imagination, or if the house is in fact possessed by a hostile spirit.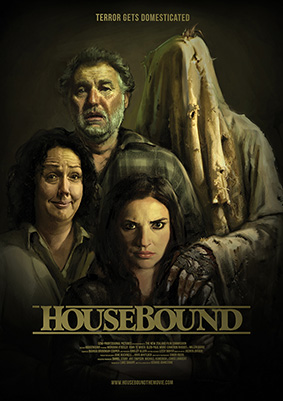 A film that, according to Fangoria, "manages to balance consistent, fantastic comedy with a properly eerie mystery and what should be a star-making turn from lead Morgana O'Reilly," Housebound will be released on UK DVD on 20th July 2015 by Metrodome at the RRP of £15.99.
No extra features have been listed.
Oh, and by the way, Peter Jackson himself is rather a big fan.