Simply Media have announced the June release of a further four titles from the Cohen Film Collection, all of which will be released on 15th June 2015 of £12.99 apiece. As ever they have provided extensive details on each title, which we've reproduced below.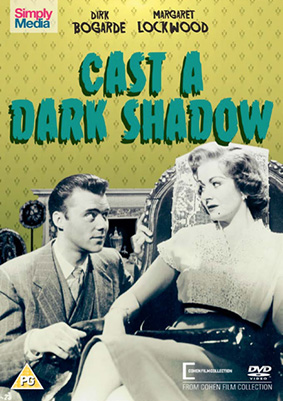 Cast a Dark Shadow (1955)
Having plied his elderly wife (Mona Washbourne – Billy Liar) with alcohol, a modern day Bluebeard (Dirk Bogard – Doctor in the House, Providence) leaves her to die from gas poisoning by the fireplace of their stately home. Having done the nasty however, his wife's fortune soon turns out to be far smaller than Edward realised, and what there is has been entailed away to a distant sister. He sets his greedy sights on the heavily insured barkeeper Freda (Margaret Lockwood – The Lady Vanishes). Edward soon grows restless with his crass new wife, who refuses to give him a penny, and instead targets a third wealthy matron (Kay Walsh). She however, is no fool, and has plenty of her own secrets. Secrets that could expose Teddy. Has he finally met his match?
Cast a Dark Shadow begins as it means to go on: with a scream. Shot in extreme close up, the shriek is momentarily chilling...until the camera pans and reveals the scene as a mere ghost train-ride at a seaside fair. This is indicative of the film throughout. Alfie, Educating Rita and You Only Live twice director Lewis Gilbert's haunting British noir, always tightly suspenseful, allows audiences to exhale only momentarily before the stakes are raised once again.
Lewis Gilbert found matinee idol Dirk Bogarde charming but "kind of feminine, in a way", and sensing within him an affinity for the sinister, he decided to cast him against type in his new thriller. It was an unusual choice. At the time Bogarde was known for his roles in romantic, patriotic and comedy films, but his turn in this noir was a success, with the New York Times calling his performance "neat and taut."
Britain had a reputation for producing tidy, chilling crime thrillers in the fifties, and the Brighton setting of Cast a Dark Shadow proved no exception. Based on the stage play Murder Mistaken by Janet Green, the film managed to shake off the overt theatricality of its roots, which marked the trend of the time moving towards the kitchen sink drama, and away from the melodramas that had previously dominated cinemas. Unusually Cast a Dark Shadow doesn't ask who the murderer is, but will he get caught, and will he kill again?
The film also stars Kathleen Harrison (A Christmas Carol) and Robert Flemyng (The Horrible Dr. Hitchcock) with evocative cinematography by Hammer favourite Jack Asher (Hammer's Dracula, The Curse of Frankenstien and The Hound of the Baskervilles).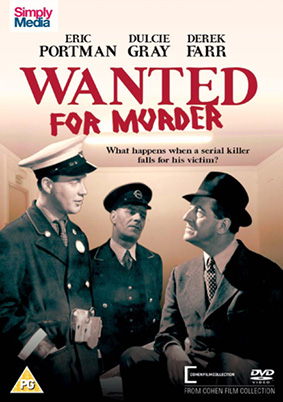 Wanted for Murder (1946)
Pretty Anne Fielding (Dulcie Gray) has her pick of men. There's her boyfriend, the sophisticated Victor (Eric Portman), and now there's Jack... He's the humble bus conductor who comes to her rescue after the bus stalls and delays her journey by an hour. She was on her way to meet Victor at the Hampstead Heath fairground and Jack gallantly escorts her there. Sparks fly between the pair as they share ice-cream and enjoy the fun of the fair while keeping an eye out for Victor. When they finally reunite, Anne and Victor head for home at the same time a young woman is found dead on the Heath. She appears to be the latest victim of 'The Strangler', a notorious serial killer who has already struck five times before.
With Jack seen storming away from the scene and Victor's handkerchief found near the body, the police seize both men to appear in the line up of potential suspects. A crazed game of cat and mouse ensues and Anne finds herself in grave danger. The police are up against time in this race to draw the threads together – but in the end, which neck will they close around? Will the police get their killer, before he gets Anne?
The connections between Wanted for Murder and Alfred Hitchcock's Strangers on a Train aren't hard to spot. There's a murder at an amusement park, a psycho killer with daddy issues and a murderer plotting his next victim's demise on an isolated island, accessible only by rowboat (it gets that specific!).
Impressive cinematography from Mutz Greenbaum (I'm All Right Jack) means the film unfolds almost like a documentary, taking in London's scenery in a manner reminiscent of a time capsule of the post war era. The treatment of the city as deathly by night, recalls an almost Victorian idea of the city, during the reign of terror of Jack the Ripper.
Written by Emeric Pressburger (The Red Shoes, The Tales of Hoffman, Black Narcissus), Wanted for Murder has some of that manic yet chillingly controlled energy that would later emerge in the legendary Powell and Pressburger partnership films and it's fascinating to see this early work from the filmmaker.
The film also stars Kathleen Harrison (A Christmas Carol), Stanley Holloway (Brief Encounter, My Fair Lady) and Roland Culver (Thunderball).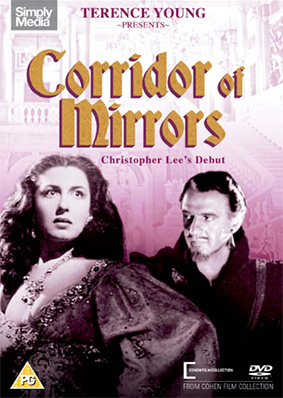 Corridor of Mirrors (1948)
Mifanwy Conway (Edana Romney) is an unhappily married woman easily seduced by modern day Bluebeard Paul Mangin (Eric Portman – 49th Parallel, The Bedford Incident). Mangin becomes obsessed with his new muse believing she is the reincarnation of his lover from a former life, whose portrait hangs in his home. He adorns Mifawny with antique jewels and precious fabrics, making her the double of his first mistress. As their relationship escalates, Mangin's controlling nature becomes too much and during a sumptuous Venetian-style ball he has planned for her, Mifanwy rebels against his brainwashing and tries to run away...
This neo-realist fairy story perfectly combines German expressionism with English Gothic to hallucinogenic effect. Corridor of Mirrors was the film debut for Gothic legend Christopher Lee and director Terence Young, who went on to direct Dr No, From Russia With Love, Thunderball, Wait Until Dark, Red Sun and many more.
Corridor of Mirrors was the film debut for Gothic legend Christopher Lee and director Terence Young who went on to direct Dr No, From Russia With Love, Thunderball, Wait Until Dark, Red Sun and many more.
Corridor of Mirrors blends German expressionism and English Gothic to create a madly hallucinogenic, baroque fantasy that will be irresistible to lovers of the genres. Similar in plot to Hitchcock's Vertigo, the film boasts the directorial debut of Terence Young and first film for one Christopher Lee. In his autobiography, Christopher Lee recalls Young lending him a tuxedo for one scene set in a nightclub.
Other surprising star turns include Thora Hird (Talking Heads, Went the Day Well) as an irritating tourist in Madame Tussaud's and Lois Maxwell, who would later play Miss Moneypenny in 14 Bond films, though Young originally turned her down because she "looked like she smelled of soap".
Unusually, Corridor of Mirrors was co-scripted by its leading lady, Edana Romney, alongside Rudolph Cartier who would later produce such fifties television classics as The Quatermass Experiment. An impressive soundtrack from Georges Auric (Beauty and the Beast, Moulin Rouge), adds to the immersive effect of this mysterious drama.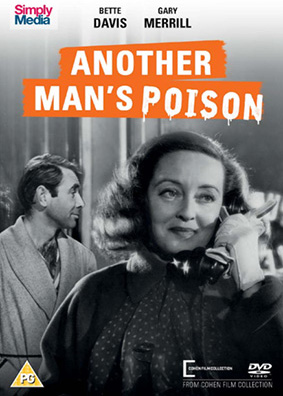 Another Man's Poison (1951)
Bette Davis stars with her then husband Gary Merrill in this British crime noir that's positively dripping with melodrama.
Vivacious mystery novelist Janet Frobisher (Bette Davis) has been happily separated from her criminal husband for years. She now lives alone in a dark English country house, where she enjoys devious dalliances with her secretary's fiancé (Anthony Steel). When her husband returns out of the blue and threatens to ruin her relationship, Janet resolves to poison him. Just as she's preparing to dispose of the body, disaster strikes! Her husband's criminal cohort George (Gary Merrill) arrives looking for his pal... George wastes no time insinuating himself into Janet's home and life, and the web of tangled relationships soon develops into a macabre game of cat and mouse.
Another Man's Poison was filmed in Yorkshire and directed by Irving Rapper (Now Voyager, The Corn is Green) with intense, gripping cinematography from Oscar winner Robert Krasker (The Third Man, Brief Encounter).
The filming of Another Man's Poison saw far more romance than your average dark crime thriller set. Newly weds Bette Davis and Gary Merrill had met whilst filming their last feature, All About Eve and married that summer. The film essentially became an all expenses paid family honeymoon with the promise of first class travel on the Queen Elizabeth and exceptional lodgings in England for the couple and their children, as well as two nannies and a maid!
Davis was keen to make a film in the UK, telling reporters: 'I've always wanted to play in a suspense picture as they're made in England, with that quiet effectiveness which the British singularly seem to possess'. The press were to cause troubles on the trip however, as following a lavish party thrown by Davis, several negative stories were published about that rich actress with copious luggage, mink coats and her husband 'Mr Davis'. Bette Davis went on to garner 2 Oscars. Upon the release of Another Man's Poison, critics and audiences alike were shocked by the incredible twist that nobody saw coming.