At age fifty, Alice Howland (Julianne Moore) has it all: a Columbia University linguistics professorship, a devoted husband, and three loving children. Her life is a whirlwind of work and family, and she thrives on it. But, while lecturing at UCLA, something unexpected happens: mid-sentence, she struggles to find a word. Though a seemingly innocuous relapse, the incident leads to a diagnosis of early-onset Alzheimer's disease, a stunning realisation that sees the bonds between Alice and her family thoroughly tested.
Based on Lisa Genova's 2009 novel of the same name, Still Alice is a frightening, heartbreaking, but ultimately inspiring drama featuring an astonishing Oscar, Golden Globe, Screen Actors Guild and BAFTA-winning performance from Julianne Moore. Directed by Richard Glatzer and Wash Westmoreland (The Last of Robin Hood), the film co-stars Kate Bosworth, Shane McRae and Alec Baldwin, and has won a slew of awards at film festivals across the world.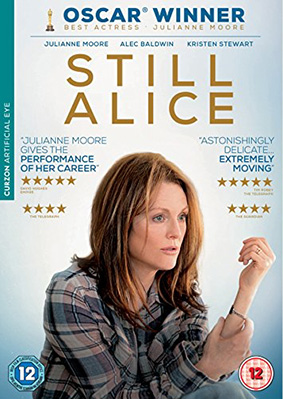 Still Alice will be released on UK DVD and Blu-ray on 6th July 2015 by Curzon Film World at the RRP of £15.99 for the DVD and £19.99 for the Blu-ray.
No extra features have been detailed as yet.