harismatic Italian star Luca Zingaretti forsakes his familiar crime-fighting role as TV's Inspector Montalbano to play a character most definitely on the wrong side of the law in Kidnapping: La Sfida [The Challenge].
Heinz Hoenig (Das Boot) stars as Max Klausner, a wealthy workaholic German industrialist, whose young son Tommy is kidnapped while on holiday in Sardinia. The kidnapping is just one of the torments besetting Max; he begins to suspect the kidnappers identities and also faces blackmail from his shady business partner. As realisation sets in Max faces the toughest test of a father's love; he must save his son.
Refusing to pay the ransom, the police are shocked as Max returns to Berlin but he has his own agenda. He hires former secret service agent Werner Shröder (Michael Degen – Hannah Arendt), who discovers that Tommy's kidnapper, the Sardinian Tonino Sanna (Zingaretti), and his henchman are holding the boy in a remote Tuscan hideout. Max's ruthless business instincts pinpoint the leverage required to put intolerable pressure on Tonino and secure Tommy's release. This audacious move, however, will have an outcome that impacts on Max's emotional life in a way he'd never expected.
This poignant tale about a father's dedication is directed by Cinzia Th. Torrini (Hotel Colonial) and also stars Matteo Urzia (Notte prima degli esami) and cult icon Dalila Di Lazzaro (Flesh for Frankenstein, Phenomena).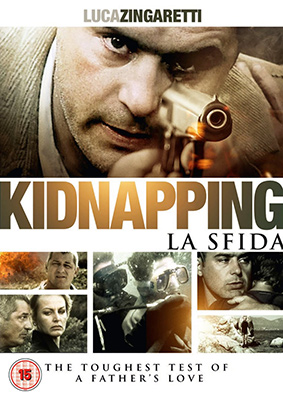 Kidnapping: La Sfida will be released on UK DVD on 22nd June 2015 by Odyssey at the RRP of £12.99.
No extra features have been listed.