Helma Sanders-Brahms' harrowing tale of love and war, Germany Pale Mother [Deutschland Bleiche Mutter] (1980) becomes available for the first time in the UK later this month when it is released by the BFI in both Blu-ray and DVD editions. When it was originally released in cinemas it was shortened by around 30 minutes, but it will be presented by the BFI in its original length on both formats. The Blu-ray release will also contain the shorter version.
Set during the Third Reich and its aftermath, this harrowing tale of love and war is a neglected classic of New German Cinema. Based on acclaimed director Helma Sanders-Brahms' mother's life, the film explores the devastating impact of war on family and relationships.
Hans (Ernst Jacobi) and Lene (Eva Mattes) scarcely have time to meet and marry before Hans is sent away to fight, leaving Lene to give birth alone and struggle through the war with a newborn baby daughter.
Savaged upon its release by critics, who baulked at Sanders-Brahms' bravely subjective take on recent history, Germany Pale Mother was heavily truncated for its limited cinema release. Now the BFI presents the film restored to its original length for the first time.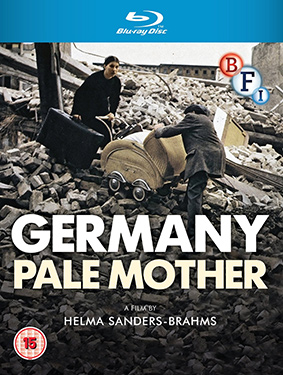 Germany Pale Mother will be released on UK Blu-ray and DVD on 25th May 2015 by the BFI at the RRP of £19.99 each.
Special features on the Blu-ray edition:
Newly remastered High Definition presentation

Original theatrical trailer

Germany Pale Mother – theatrical cut (Helma Sanders-Brahms, 1980, 123 mins): Blu-ray exclusive presentation of the shorter version

Hermann mein Vater (Helma Sanders-Brahms, 1987, 57 mins): fascinating companion piece in which Sanders-Brahms accompanies her father to Normandy, where he was posted with occupying German forces in 1940-41

Illustrated booklet with contributions by Anne Sanders, Erica Carter, Margaret Deriaz and Caren Willig; full film credits
Special features on the DVD edition:
Newly remastered presentation of the original director's cut

Original theatrical trailer

Hermann mein Vater (Helma Sanders-Brahms, 1987, 54 mins)

Illustrated booklet with contributions by Anne Sanders, Erica Carter, Margaret Deriaz and Caren Willig; full film credits