Olivia Williams (The Sixth Sense) and Matthew Modine (The Dark Knight Rises) star as husband and wife Meg and Alec who move to the darkly beautiful but desolate Radcliffe House with their two children. A mosaic on the floor hints at the terrible murder by Radcliffe of his wife Isabella – the result of a demonic black magic ritual that led to his suicide... or did it?
Ghostly creatures haunt this house, teasing, taunting and invading those who linger within and something is driving Alec, maniacally, to recreate the presence of Isabella in the body of his wife.
The ritual is about to be enacted once more, the past bloodily thrust into the present. Will anyone survive The Haunting of Radcliffe House?
Known also in some quarters as Altar, the Kickstarter funded The Haunting of Radcliffe House was described by Starburst as "leak yet beautiful...credibly creepy with some utterly scorching moments," though it's worth noting that some others (precious few seem to have reviewed it) have been less complimentary.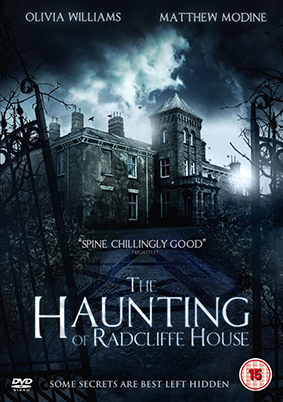 You can check for yourself when the film is released on UK DVD on 11th May 2015 by Image Entertainment at the RRP of £12.99.
No extra features have been listed.