When they're turned down for a bank loan that would let them go straight, low-level career criminals Cor Van Hout (Jim Sturgess – Cloud Atlas, One Day), Willem Holleeder (Sam Worthington – Avatar, Sabotage) and friends strike upon an idea to solve all of their problems in one fell swoop – the kidnapping of Freddy Heineken (Sir Anthony Hopkins – Thor: The Dark World, The Silence Of The Lambs), heir to the brewing empire and one of the wealthiest men in the Netherlands.
Robbing banks to fund a meticulous operation, the group falls deeper into criminality before pulling off the plan and abducting Heineken and his driver, holding them both for 21 days before a ransom of 35 million Dutch guilder is paid – equivalent to €15 million and still the largest sum ever paid as a ransom for a single person. However, the reality of life on the run and the pressures of guilt soon begin to infect the group as it starts to unravel from within...
Also starring Ryan Kwanten (Collection, TV's True Blood) and directed by the acclaimed Swedish auteur Daniel Alfredson (The Girl With The Dragon Tattoo trilogy, TV's Millennium), Kidnapping Freddy Heineken is a double-barrelled, killer combination of gripping heist movie and tense psychological thriller as group dynamics and the subtle influence of Heineken on his captors start to eat away at a 'perfect' plan.
It will be interesting to see how the film measures up to Maarten Treurniet's 2011 21 Days: The Heineken Kidnapping, which despite having all of the right elements in place, including a solid performance from Rutger Hauer and Freddy Heineken, still managed to trip up over its own creative feet.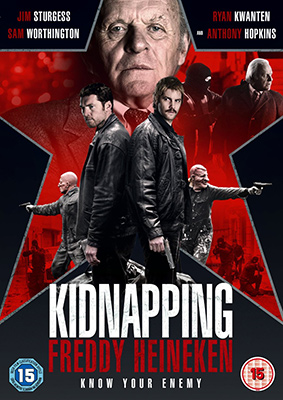 Kidnapping Freddy Heineken will be released on UK DVD and Blu-ray Steelbook on 8th June 2015 by Signature Entertainment at the RRP of £17.99 for the DVD – RRP for the Steelbook Blu-ray has yet to be confirmed, but expect it to be a few quid more.
If there are any extra features, Signature are being awfully quiet about them. Even we have a trailer...