Inequality, injustice and the demands of the world we live in cause stress and depression for many people. Most face them on bended knee – but some of them explode. Wild Tales is a film about those people.
Comprising six stories of apocalyptic revenge, Wild Tales [Relatos salvajes] is a blackly comic series of vignettes on what it means to lose control. By turns shocking, hilarious, violent and preposterous this exhilarating thrill-ride produced by Pedro Almodóvar is one that you're never going to forget.
Written and directed by Damián Szifron (The Bottom of the Sea, On Probation), Wild Tales was described by The Guardian as "a fantastically scabrous collection of movie tales from the dark heart of Argentina" and Sight & Sound as "a funny, dark, hugely enjoyable film...great cinema."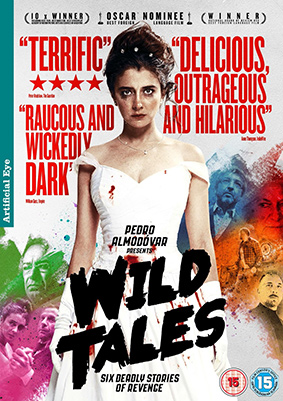 Wild Tales will be released on UK DVD and Blu-ray on 15th June 2015 by Artificial Eye at the RRP of £17.99 for the DVD and £19.99 for the Blu-ray.
Extra features will include: