Terracotta Distribution has announced the third title in its 'Classic Kung Fu Collection' after Hero of Shaolin and The Shanghai Thirteen – a forgotten martial arts classic The King of Fists and Dollars, featuring a legendary Shaw Brothers' cast.
A greedy tyrant rules with relentless aggression. What he can't buy, he takes by force. The desperate townspeople seek local kung fu master, the Iron Fist King, for help. Backed by his top students, the master takes on the warlord's formidable hired fighter to rid the community of this powerful bully once and for all, in a brutal battle to the death.
The King of Fists and Dollars is an action feature written and directed by Chen Ming-hua and available in its original Mandarin language with English subtitles; and original multi-languages dubbing (English, French, Spanish).
The film stars David Chiang (The Shanghai Thirteen, Shaolin Temple, Vengeance, Blood Brothers), Danny Lee (The Shanghai Thirteen, The Killer), Pearl Cheung Ling (The Invincible Swordswoman), Michael Chan Wai Man (Gangster Pay Day, Gallants) and Chao Hsiung (Five Fingers Of Death).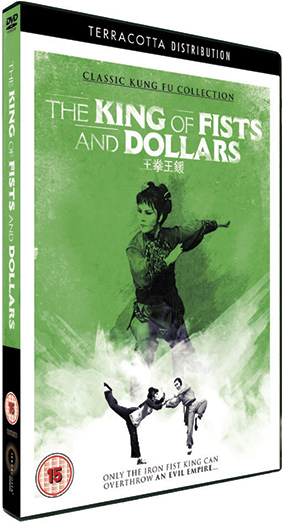 The King of Fists and Dollars [Qian wang quan wang] will be released on UK DVD on 27th April 2015 from Terracotta Distribution at the RRP of £14.99.
No extra features have been listed.