Sean Penn gives a star turn as an undercover cop who infiltrates a local crime gang in his hometown, in the classic 90s New York gangster movie State of Grace. Also starring acting greats Ed Harris and Gary Oldman it comes to Blu-ray from Second Sight.
After a decade away, Terry Noonan (Sean Penn) is welcomed back into the fold in his New York Irish-American neighbourhood, Hell's Kitchen. A one-time street tough, Terry is now an undercover officer tasked with getting entrenched with crime boss Frankie Flannery (Ed Harris), who happens to be the brother of both his best friend Jackie Flannery (Gary Oldman) and old flame Kathleen Flannery (Robin Wrights). As he rekindles old friendships and his romance with Kathleen, he starts to question his loyalties as the violence begins to escalate.
Directed by Phil Janou (U2: Rattle and Hum, Gridiron Gang), the film boasts a seriously impressive supporting cast that includes John Turturro, Burgess Meredith and John C. Reilly.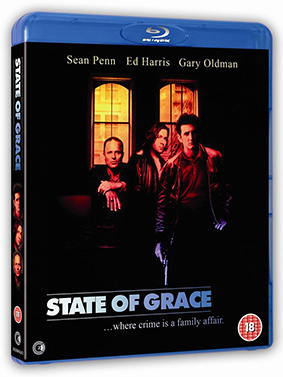 State of Grace will make its UK Blu-ray debut on 1st June 2015 by Second Sight at the RRP of £19.99.
Extra features will include:
Directing a Bunch of Gangsters: Making State of Grace – An interview with director Phil Janou

Ed Harris on State of Grace