For Shirin (Desiree Akhavan), being part of a perfect family isn't easy. Acceptance eludes her from all sides: her family doesn't know she's bisexual, and her ex-girlfriend, Maxine (Rebecca Henderson), can't understand why she doesn't tell them. Even the six-year-old boys in her moviemaking class are too ADD to focus on her for more than a second.
Following a family announcement of her brother's betrothal to a parentally approved Iranian prize catch, Shirin embarks on a private rebellion involving a series of escapades, while trying to decipher what went wrong with Maxine.
Writer/director Desiree Akhavan, best known for her cult web series The Slope, stars in this story of a bisexual Iranian-American woman trying to find her way in modern-day Brooklyn. Appropriate Behaviour is an intelligent, engaging comedy that heralds an exciting new voice in indie cinema. It's also proved a serious critical hit, being described by The Guardian as "funny, risky and in excitingly bad taste," and Sound on Sight as "easily one of the early notable films of the year."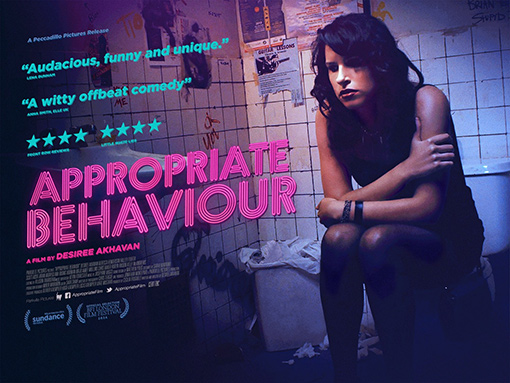 Appropriate Behaviour will be released on UK DVD and On-Demand on 29th June 2015 by Peccadillo Pictures at the RRP of £15.99 for the DVD.
Extra features will include:
Audio Commentary with director and producer

UK exclusive interview with director and producer

BFI Flare Q&A with Desiree Akhavan

London Met Film School Masterclass preview

Behind the Scenes featurette