Late 1980s Los Angeles, the gangs rule the streets, with the Crips and the Bloods battling to reign supreme. In a dog-eat-dog world of drugs and guns, they don't care who gets caught in the crossfire. It's blue verses red and if you're wearing the wrong colour it could cost your life.
Long serving cop Bob Hodges's (Robert Duvall) plans for an easier life are scuppered when he is moved to LAPD's Gang Crime Division. His years of experience and street-wise ways are put to the test when he's partnered with hot—headed rookie cop Danny McGavin (Sean Penn). The pair grapple with their new partnership on the gang-ridden streets of Los Angeles and although Danny finally lets Hodges show him the ropes, his adrenaline-fed brutality earns him a reputation with the very gangs they want to help as a war on the streets is ready to explode.
Directed by the legendary Dennis Hopper, gritty police drama Colors was one of the first films to tackle LA gang culture and features an outstanding soundtrack from Herbie Hancock including tracks from Ice T, Big Daddy Kane, Eric B and Rakim and Roxanne Shante.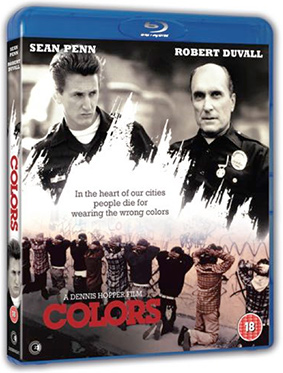 Colors will make its UK Blu-ray debut on 1st June 2015 from Second Sight at the RRP of £19.99.
Special features will include:
A Cry of Alarm – an interview with screenwriter Michael Schiffer

Cops & Robbers – An interview with technical advisor and ex-LAPD Gang Division Dennis Fanning