With the new adapation by Danish maestro Thomas Vinterberg soon to hit UK cinemas, Studiocanal has announced that a newly restored version of director John Schlesinger's 1967 version of Far From the Madding Crowd, based on the novel by Thomas Hardy, will be released on DVD, Blu-Ray and EST on 1st June 2015. This will be the longest version to have been available to buy in the UK to date and features brand new bonus material including exclusive interviews and featurettes. The restoration process was personally overseen by the film's cinematographer, Nicolas Roeg.
Headstrong and passionate Bathsheba Everdene unexpectedly inherits a large farm in rural Dorset. Struggling to manage the farm herself, she captivates the hearts and minds of three very different men: an honest and hardworking sheep farmer, a wealthy but tortured landowner, and a reckless and violent swordsman. But as emotions become entangled, free spirited and innocent folly soon leads to devastating tragedy.
Director John Schlesinger's (Billy Liar, Darling, Marathon Man) take on Thomas Hardy's classic story of the trials of love within a rural 19th Century England rife with class distinction and social codes is beautifully realized through a script by Frederic Raphael (Eyes Wide Shut), an A-list ensemble cast including Julie Christie (Doctor Zhivago), Terence Stamp (The Limey) and Peter Finch (Network) and an acclaimed score from Richard Rodney Bennett (Murder on the Orient Express). The evocative cinematography from Nicolas Roeg showcases Thomas Hardy's Dorset in all its glory.
This newly restored version premiered at the 2014 London Film Festival in the Archive Strand. The restoration process was overseen by the film's cinematographer and acclaimed director, Nicolas Roeg. Scanned at 4K and restored at 2K from the original 35mm negatives, the film's aspect ratio, which was incorrect on its original release, has also been corrected as part of the restoration. The Digital Film restoration was funded by Studiocanal in collaboration with the BFI's Unlocking Film Heritage programme (awarding funds from the National Lottery).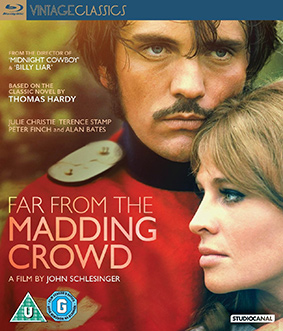 Far From the Madding Crowd will be released on UK DVD, Blu-ray and EST download on 1st June 2015 by Studiocanal at the RRP of £17.99 for the DVD and £22.99 for the Blu-ray.
Special features will include:
Interview with Terence Stamp

Interview with Frederick Raphael

Interview with Nic Roeg

Location: Inside Far From The Madding Crowd

Devizes Then and Now – The Locations of Far From the Madding Crowd
Far from the Madding Crowd is part of the 'Vintage Classics collection' – showcasing iconic British films, all fully restored and featuring brand new extra content: www.facebook.com/vintageclassicsfilm